911 call takers become the backbone of all 911 systems, quickly answering and transferring all emergency and non-emergency calls for requests for emergency services.
Geographical areas that do not have 911 call centers for all of the different types of emergency services rely on the work of 911 call takers. Once the call comes in and is determined to be an emergency, the dispatcher transfers the caller to the proper emergency provider.
Even though 911 call takers aren't necessary to organize crisis units, such as police or fire/EMS dispatchers, they can be vital to some 911 emergency services systems, as they must be sure the information is immediately and clearly relayed to the proper bureau. Essential skills for a 911 call taker consist of the following:
Properly determine whether calls are an emergency or non-emergency
Gather crucial and timely information from the callers
Make quick decisions and react reasonably
Enter information effectively in the Computer aided-Dispatch system (CADS)
Obtain critical information and route the call as quickly as possible
Remain extremely calm and professional with all parties
Find schools and get information on the program that's
right for you.
(It's fast and free!)
Featured Schools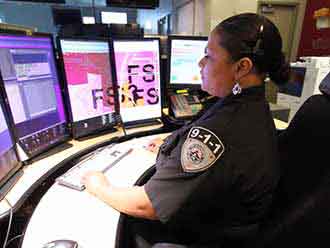 911 Call Taker/Dispatcher Job Responsibilities
911 call takers are the very first point of contact that handles emergency 911 calls from distress callers. Their job responsibilities include:
Answering all inbound 911 calls
Gathering all relevant information from callers using exceptional verbal communication abilities
Inputting all info into CADS
Appropriately routing all emergency and non-emergency callers to the designated dispatcher and/or designated service agency
The 911 call taker will gather the following information:
Precise location of the event, including street address, intersection, nearby landmarks, region of house or a structure, etc.
Kind of event or incident
Exact description of individuals, vehicles, locations, etc.
The existence of, and types of, weapons
Discover 911 dispatcher programs that are a match for you!
The following scenarios may be described as a crime in progress, (called a hot call):
a robbery
a collision with fatal injuries
a high speed chase
a national incident with weapons included
a kidnapping or hostage scenario
a homicide or assault using a deadly weapon
Because of the actual fact that these sorts of events can be exceedingly disorderly, 911 call takers must have the capacity to instantly get the information they require about the place of the event and as much information regarding the event as they possibly can. Subsequently, the 911 call taker must convey the advice to any or all appropriate emergency response staff, while staying with the caller on the line and remaining calm.
Who Makes for a Great 911 Call Taker?
Most of the characteristics listed below make for a great 911 call taker:
Excellent Voice
Professional Demeanor and Proper Etiquette
Patience
Authority
911 Call Taker Requirements
The minimum academic requirements for becoming a  911 call taker/dispatcher include having a high school diploma or GED. Even though there are no additional educational requirements needed, 911 call takers should be proficient in reading, typing and spelling skills, as well as possess the ability to multi-task.
Candidates for 911 call taker jobs usually must pass a drug exam, a background check, and take part in training programs. Some states require applicants to be state certified, and many states are requiring 911 call takers to pass an emergency medical dispatch training course.
Salary Expectations for 911 Call Takers
911 call takers can make as much as $38,010 per year or
$18.27 per hour, depending on the city and state in which they work.