Prior to becoming a 911 dispatcher in Maryland, candidates must first complete the required training and education in order to effectively perform their job responsibilities.
Find schools and get information on the program that's
right for you.
(It's fast and free!)
Maryland 911 Operator Education
For those looking to become 911 operators in the state of Maryland will need to complete a high school diploma or its equivalent in order to receive consideration. Although a college education may not be required, it is highly recommended that prospects obtain a degree relevant to the field. The degree will help candidates stand out from others and can lead to career advancement later down the line. Some useful degrees include:
Emergency management
Public health
Public management
Computer science
Communications
Maryland 911 Dispatcher Training and Certification
911 operator jobs in Maryland are required to complete specialized training and certifications prior to beginning their careers. The Prince George's County Public Safety Communications Department required that all new candidates complete the following:
NAED Crisis Police Dispatch (EPD) class and certification
NAED Emergency Fire Dispatch (EFD) class and certification
NAED Emergency Telecommunicator Class
NCIC CN2 training and certification
End of an academic training course, with assessments and courses that have to be passed with grades of at least 80 percent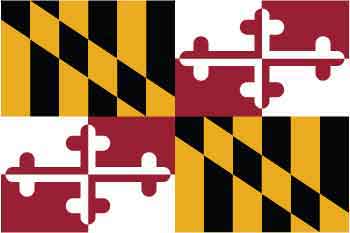 Added demands for 911 Dispatchers in Maryland will normally range from the following:
Passing a thorough criminal history test
Competence with Windows programs and software
Passing drug screening evaluation and a medical exam
Capability to work during crisis situations like natural/manmade inclement weather and catastrophes
Skill, and openness, to work 12 hour shifts
Largest Employers of Maryland 911 Dispatchers
Below are some of the few employers who receive the most calls and hire the most emergency operators throughout the state:
Washington County Fire and Rescue Communications
Frederick County Department of Emergency Communications
Montgomery County 911 Emergency Communications Center
Somerset County Department of Emergency Services
Maryland 911 Dispatcher Salary
Those in the state of Maryland who serve their communities as 911 dispatchers receive an excellent living for the services they provide. According to the Bureau of Labor Statistics, a general emergency operator takes home an average salary of $43,080 per year.
911 Dispatcher Programs and Schools in Maryland
Get Your Degree!
Find schools and get information on the program that's right for you.
(It's fast and free!)
Choose your area of study and receive free information about programs you are interested in. 911 dispatchers can benefit greatly from degrees in public safety, emergency management, homeland security, and criminal justice. Request information from multiple programs to make an informed decision on the best program and educational opportunity for you!