911 professionals, often described as the "first-first responder," are responsible for gathering essential information and relaying it to the right kind of help to the right location while potentially providing medical or other instructions until help arrives at the caller's location.
In their goal of saving lives, 911 dispatchers must be calm under pressure and able to take control of often-unpredictable situations.
911 Dispatchers Save Lives Every Day
It is important for the 911 dispatcher to procure the right information from a caller during a time of emergency and crisis. Emergency dispatchers understand that the more details they can get from the call, the better prepared the emergency responders will be when they arrive at the scene of the emergency. You want responders to move quickly and effectively to assess the situation so that proper action can be taken. These specially trained 911 operators realize that they make a difference in each "life or death" situation. Dispatchers must remain calm, collected and mentally sharp when dealing with 911 callers in order to help emergency responders maximize their efforts.
Find schools and get information on the program that's
right for you.
(It's fast and free!)
Featured Schools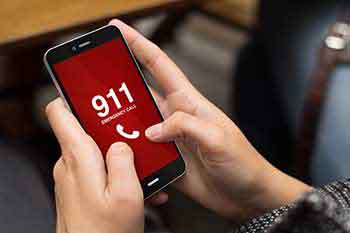 911 Dispatchers conduct the following important tasks, among many others:
receiving incoming emergency calls
prioritizing calls based on the details of an emergency
providing detailed instructions on life-saving emergency medical interventions
dispatching the proper emergency personnel in a timely and effective manner
The Nation's 911 Office, located in Washington, DC,  oversees the 911 emergency response system for America. The Public Safety Answering Points (PSAP) are located within the municipalities and counties of each state. Each state makes the final determinations on the basic qualifications, prerequisites and specific training guidelines for new 911 dispatcher recruits.
Learn How to Become a 911 Dispatcher in your State
Your Game Plan for Becoming a 911 Operator
Requirements for Employment
In order to become a 911 dispatcher/operator, candidates must adhere to the minimum requirements: at least 18 years of age and have earned a high school diploma or a GED. Usually, most agencies will also require candidates to have a valid state driver's license.
Most of those who pursue an occupation in emergency dispatch often will have completed a college degree program in a field that is closely related.  A related degree can provide you with unprecedented knowledge of highly relevant facets such as communications, emergency management, the criminal justice system and particular public safety standards.
For those individuals with the goal of advancing in this profession, a college degree often provides better career advancement and opportunities. Bear in mind that many agencies do accept a formal academic program as a viable substitute for experience, often allowing you to accelerate into a management-related position faster than those without.
Study areas that are considered the most relevant for the occupation of 911 dispatcher/operator include the following:
Public Safety
Emergency Management
Communications
Homeland Security
Criminal Justice
Finding The Right Employer for 911 Dispatcher Jobs 
A great route to identify 911 dispatcher opportunities is to look for the state's public safety answering points (PSAPs). These are the best contact points for people who call 911. Another viable way to look for jobs is to investigate professional opportunities through the state's secondary PSAPs; these are centers where calls are often transferred from a primary PSAP.
PSAPs can be located at the following places:
police departments
fire stations
call centers
public safety departments
The FCC maintains an invaluable Master list of PSAPs located throughout the country. Keep this list readily available.
Discover online 911 dispatcher programs that are a match for you!
Needed Skills and Job Requirements for 911 Dispatchers
Before you actually apply to be a 911 operator, we recommend that you fully understand the details about the position you want, which should be listed within the PSAP's official website and/or on a local job posting site.
The typical job responsibilities for a 911 operator/dispatcher include the following:
Fielding incoming calls pertaining to police, fire and other emergency medical services
Figuring out best response practices and prioritizing situations
Questioning callers to determine their location and the nature of the emergency
Capturing and inputting data from automated data systems and teletype networks
Calling emergency response units in order to determine availability for dispatching
Recording details of all calls, dispatches and messages
Additionally, the main skills sets and knowledge needed for the actual position of the job are often outlined in the details of the position.
911 dispatchers should exhibit the following traits:
A strong ability to communicate the English language in both spoken and written forms
Demonstrate knowledge of state laws, agency rules, government regulations, and legal codes
Demonstrate understanding of computer applications and hardware and software programs
Display knowledge of the local geographical area where you will be working
Knowledge of administrative as well as clerical procedures, including word processing, stenography and transcription
Ability to point out complex situations, evaluate and develop workable solutions, and implement those solutions in a timely fashion
Must communicate effectively and apply logic and reasoning when needed
Participate in Preliminary Employment Testing and Training
To become a 911 operator, or 911 dispatcher, usually involves an in-depth process. It can include the following:
one-on-one interview
background investigation
skills test
panel interview
full medical exam
psychological evaluation
Once offered the job, agencies usually require that you complete a 911 dispatcher/operator training program, which includes ongoing classes as well as on-the-job training. Individual agencies will set their own training standards, although most will follow the typical state standards. Most courses within the dispatcher/operator training program will often include the following:
Basic Telecommunications
Advanced First Aid/CPR/AED
Critical Incident Stress
Hazardous Materials
Terrorism
Suicide Intervention
Emergency Medical Dispatch
Domestic Violence
The majority of states will require approximately 40 hours worth of initial training and the culmination of continuing education hours and training. Beyond the state training, many states capitalize on training programs via industry associations to include the following:
Association of Public-Safety Communications Officials (APCO)
National Emergency Number Association (NENA)
National Academies of Emergency Dispatch (NAED)
Salary Expectations: According to the Bureau of Labor Statistics, the median salary range for 911 dispatchers is $38,010 per year, or
$18.27 per hour.
We wish you the best of luck in becoming a 911 dispatcher or 911 operator.